CLUE News
---
National Science Foundation Updates
The National Science Foundation (NSF) recently made changes to a number of critical forms required for all proposals, with the "Biosketch" and "Current and Pending" forms being most impacted. NSF will require use of the new formats starting October 5th, 2020 but encourage their use prior to the effective date. UF's Office of Research has put together helpful resources to assist in navigating these changes, including a PAPPG Summary of Changes (PDF).
NSF also encourages applicants to create and manage supplemental documents via the SciENcv platform, which ensures document outputs are properly formatted (thus preventing kickbacks). This PDF document lists frequently asked questions about using SciENcv.
PREC welcomes intern

CLUE's Program for Resource Efficient Communities (PREC) welcomed Maria Dozier this month as an eXtension Climate Fellow Intern. Maria is a fourth-year undergraduate in the UF College of Design, Construction and Planning, earning her degree in Sustainability and the Built Environment, with minors in Innovation and Urban Planning. "In addition to her academic qualifications, she brings a rich range of professional experience and leadership skills to our national Climate and Extreme Weather Fellows team," says Jennison Kipp, PREC's ecological economist and state coordinator for Sustainable Floridians. Maria will be working with Jennison, who was named an eXtension Climate/Extreme Weather Fellow earlier this year. In 2018 and 2019, Maria guided sustainability and climate-focused research and community development projects in Peru and Costa Rica, putting her passion for global citizenship into action. "Maria has jumped into the Climate Fellows Extension work with energy, focus, and commitment. She is eager to make the most of her time as a climate intern, and we are fortunate to have her as part of the team even if only for a few short months." After completion of her degree here at UF in 2021, Maria plans to pursue a graduate degree in South Florida. You can learn more about eXtension's Climate and Weather Fellows program at their website.
CLUE faculty awarded tenure, promotion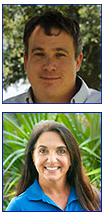 We are pleased to announce that two CLUE faculty were awarded tenure and promotion this summer. Dr. Andrew Koeser, professor of landscape management at the Gulf Coast Research and Education Center in Wimauma has been awarded tenure and promoted to associate professor, and Wendy Wilber, Florida Master Gardener Volunteer statewide program coordinator, has been promoted to Extension agent IV.
The University of Florida Institute of Food and Agricultural Sciences recently announced that 52 faculty members have been accorded promotion, tenure and/or permanent status by the University. These actions become effective July 1 for 12-month faculty, August 16 for 9-month faculty. The promotion-and- tenure/permanent-status process is a rigorous review of faculty members' teaching, research, and Extension accomplishments, as well as their service to the University, society and the profession.
Dr. Koeser has been with the University of Florida since 2016. His research is primarily focused on issues relating to urban landscape sustainability, tree risk assessment/storm failure prediction, and factors that influence urban tree growth and longevity.
Wendy Wilber has been the statewide coordinator for the Florida Master Gardener Volunteer program since 2015, and was previously the Alachua County Master Gardener Volunteer coordinator.
---
Lisa Krimsky and Charles Barrett Present on BMAPs in Late April
On Tuesday, April 28 at noon, CLUE faculty Drs. Lisa Krimsky and will present "Introduction to Basin Management Action Plans." It is part of an online in-service training series, "Introduction to Water Resources Management in Florida." To ensure the safety and security of these webinars, the Zoom links have been updated and registration is required. Register for "Introduction to Basin Management Action Plans" here.
---
Laura Warner Wins 2020 AAAE Southern Region's Distinguished Research Award
At the Southern Region's conference of the American Association for Agricultural Education, held February 1-4 in Louisville, Kentucky, CLUE faculty member Dr. Laura Warner was named the 2020 Distinguished Researcher. The award recognizes individual AAAE-Southern Region members for outstanding research conducted by them that contributes in a superior manner to the Agricultural Education profession. Dr. Warner is an associate professor and Extension specialist in Agricultural Education and Communication, specializing in program evaluation, behavior change, and social marketing.