CLUE News
---
Urban Tree Diversity Conference is August 2-3 in St. Petersburg, Florida
Despite the tremendous diversity of trees found worldwide, urban forests continue to be dominated by relatively few species and genera. This comes at a price with regard to urban resilience which has been paid several times over given past diseases like Dutch elm disease and infestations such as emerald ash borer.
Many of the barriers to increased species diversity are artifacts of production and procurement systems, planning efforts, designs, and policies. As such, this is an issue that can be overcome with increased knowledge, facilitated communications, and targeted research. For years, the Urban Tree Diversity conference series has worked to bring real-world experts, practitioners, and leading scientist together to achieve these three needs. This fourth installment of the conference series marks the first time the event will be hosted in the United States and in the State of Florida with the University of Florida as a partnering organization.
Registration for Urban Tree Diversity 4 (UTD4) is open. Registrants can choose to attend in-person or remotely. The full conference program is available at www.utd4.org. Registration is open now.
---
CLUE Faculty Present Webinar Series on the Changing Landscape
UF/IFAS Extensions Broward, Miami-Dade, and Palm Beach counties present this free, six-part series of one-hour webinars examining today's problems and future challenges facing those who manage urban landscapes in Florida. CEUs are available for $10.00 each session, but webinars are free to attend if you do not want CEUs. The presentations are offered every other Wednesday from noon to 1 p.m. beginning April 13th, and are offered a la carte.
The first presentation is "Alternatives to Floratam (and even Turf)," with Dr. Phil Busey, UF/IFAS Professor Emeritus of Environmental Horticulture. Then on April 27, CLUE faculty member Dr. Eban Bean will present "Treat Your Dirt Well: Why 'Organic' Matters," Dr. Basil Iannone will present "Landscape Designs for a Healthier Planet," on May 11, FFL statewide coordinator Claire Lewis will present "Grow Your Business: Become a Florida-Friendly Certified Professional" on May 25, Dr. Gail Hansen will present "Landscape Renovations - Beyond the Box" on June 8, and on June 22 "Managing Trees in a Changing Climate" will be presented by UF/IFAS Extension agents Dr. Michael Orfanedes, Henry Mayer, and Dr. John Roberts.
You can register for any or all of these webinars at: https://changinglandscape2022.eventbrite.com. If you have questions, contact Donna Castro, UF/IFAS Broward Educational Training Specialist. Download the series flyer (PDF).
Eban Bean presents "Healthy Lawns Start from the Ground Up"
Dr. Eban Bean, PH.D. UF/IFAS Ag. and Biological Engineering, will be presenting this webinar on Friday, April 1 at noon. Urban landscapes are commonly installed on a final grade consisting of fill material brought on-site during construction to elevate the land surface. This material is typically inert, lacking organic matter and nutrients, and becomes compacted during the construction process. UF/IFAS research and other studies have shown that incorporating compost into these soil conditions can increase water retention in the root zone and decrease the need for supplemental irrigation for turfgrass. Summary of recent research on soil amendments for residential landscapes in Florida and related resources and tools will be presented during this webinar. There's still time to register: https://go.ufl.edu/emprnyf.
CLUE/FFL's Cesar Peralta Part of the UF/IFAS Team Giving Inmates a Chance
Cesar Peralta, Green Industries BMPs South Regional Coordinator with the Florida-Friendly Landscaping™ Program, was part of the UF/IFAS team teaching valuable skills to inmates. In June 2021, UF/IFAS Extension Martin County entered into a funded contract with the Florida Department of Corrections to teach a series of agriculture and horticulture programs to the inmates at Martin Correctional Institution (MCI), including Green Industry Best Management Practices (GI-BMP). Each program offered graduates a certificate they could carry with them upon release from prison. For participating inmates not eligible for release, the training provided enrichment and an opportunity for positive growth. In addition to Cesar, class instructors were Christine Kelly-Begazo, UF/IFAS Extension Indian River County and Yvette Goodiel, UF/IFAS Extension Martin County. All participants passed the course, and 95% said they learned something they will apply in work or future decisions. Read the full story in the November/December issue of UF/IFAS Comings and Goings.
Undergraduate, Graduate and Postdoctoral Positions Open with CLUE Faculty
The Residential Landscape Ecology Lab of Dr. Basil Iannone in the School of Forest, Fisheries, and Geomatic Sciences is seeking a creative and motivated MS student to start in August 2022. The candidate will lead fieldwork to quantify effects of native and ornamental plants in stormwater ponds on water quality, conduct data analyses, write project reports, and communicate/report research findings. They will also work with an interdisciplinary team consisting of ecologists, biogeochemists, stormwater engineers, social scientists, and Extension professionals on educational outreach and to identify strategies to increase the willingness of stakeholders to adopt best management practice. This position includes competitive stipend, tuition waiver, and benefits. Full position description and application information (pdf).
Dr. Iannone's lab is also seeking an undergraduate research technician to work in biodiversity, ecosystem services, and promoting sustainable landscaping design and practices in urban landscapes. The position presents a unique opportunity to gain highly versatile research skills through field work, lab experience, and data analytics alongside a supportive, professional academic team. This is a part-time job with competitive hourly pay beginning immediately (September 2021). Full position description and application information (pdf).
Dr. Lakesh Sharma, CLUE faculty member and assistant professor with the UF Soil and Water Sciences department is seeking a postdoctoral research associate for the Best Management Practices (BMP) Program with experience in DSSAT and other related modeling tools, soil nutrient management, water quality improvement, and project management. This is a 12-month postdoctoral associate position that will be 100% research focusing on designing tools to improve nutrient management in the agriculture system. This assignment may change in accordance with the needs of the unit. The postdoctoral associate will work on the row and vegetable crop BMPs program with a multidisciplinary research team at the Soil and Water Sciences Department other UF facilities. To apply, visit http://apply.interfolio.com/94069.
CLUE Faculty Awarded Tenure and Promotion
Dr. S. Christopher Marble, professor of ornamental and landscape weed management at the Mid-Florida Research and Education Center in Apopka, has been awarded tenure and promoted to associate professor. Dr. Marble has been with the University since 2014. His research program focuses on the biology and management of weeds and invasive plant species in ornamental crop production and in landscapes.

Dr. Lisa Krimsky, water resources regional specialized agent (RSA) in Fort Pierce, has been promoted with permanent status. She is part of a team of five water resource RSAs located across the state to lead and support water resource extension education programs. Dr. Krimsky's programs help solve water resource issues that are critical to the economic development and environmental protection in Florida.
The University of Florida Institute of Food and Agricultural Sciences recently announced that 59 faculty members have been accorded promotion, tenure and/or permanent status by the University. The promotion-and- tenure/permanent-status process is a rigorous review of faculty members' teaching, research, and Extension accomplishments, as well as their service to the University, society, and the profession. You can see the full list of promotions on UF/IFAS Blogs.
"Designing Future Urban Forests" Special Issue of Forests
Two CLUE faculty, Dr. Basil Iannone and Dr. Ryan Klein, along with Dr. Michael Andreu, will be guest-editing a special future issue of the journal Forests on "Design Future Urban Forests." They welcome papers that address all aspects of designing, constructing, and managing built, urban landscapes and remnant urban natural areas to ensure these systems provide urbanites with the long-term benefits provided by forests. Submissions will be accepted until April 11, 2022. Visit https://www.mdpi.com/journal/forests/special_issues/design_urban_forest for details and submission instruction.
Dr. Mary Lusk's Soil and Water Science Program has Award-Winning Student
Amanda Muni-Morgan, a PhD student in Dr. Mary Lusk's lab, received an honorable mention in this year's National Science Foundation Graduate Research Fellowship competition. This is one of the most prestigious graduate fellowship competitions in the United States. Congratulations Amanda!
National Science Foundation Updates
The National Science Foundation (NSF) recently made changes to a number of critical forms required for all proposals, with the "Biosketch" and "Current and Pending" forms being most impacted. NSF will require use of the new formats starting October 5th, 2020 but encourage their use prior to the effective date. UF's Office of Research has put together helpful resources to assist in navigating these changes, including a PAPPG Summary of Changes (PDF).
NSF also encourages applicants to create and manage supplemental documents via the SciENcv platform, which ensures document outputs are properly formatted (thus preventing kickbacks). This PDF document lists frequently asked questions about using SciENcv.
PREC welcomes intern

CLUE's Program for Resource Efficient Communities (PREC) welcomed Maria Dozier this month as an eXtension Climate Fellow Intern. Maria is a fourth-year undergraduate in the UF College of Design, Construction and Planning, earning her degree in Sustainability and the Built Environment, with minors in Innovation and Urban Planning. "In addition to her academic qualifications, she brings a rich range of professional experience and leadership skills to our national Climate and Extreme Weather Fellows team," says Jennison Kipp, PREC's ecological economist and state coordinator for Sustainable Floridians. Maria will be working with Jennison, who was named an eXtension Climate/Extreme Weather Fellow earlier this year. In 2018 and 2019, Maria guided sustainability and climate-focused research and community development projects in Peru and Costa Rica, putting her passion for global citizenship into action. "Maria has jumped into the Climate Fellows Extension work with energy, focus, and commitment. She is eager to make the most of her time as a climate intern, and we are fortunate to have her as part of the team even if only for a few short months." After completion of her degree here at UF in 2021, Maria plans to pursue a graduate degree in South Florida. You can learn more about eXtension's Climate and Weather Fellows program at their website.
CLUE faculty awarded tenure, promotion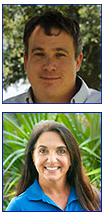 We are pleased to announce that two CLUE faculty were awarded tenure and promotion this summer. Dr. Andrew Koeser, professor of landscape management at the Gulf Coast Research and Education Center in Wimauma has been awarded tenure and promoted to associate professor, and Wendy Wilber, Florida Master Gardener Volunteer statewide program coordinator, has been promoted to Extension agent IV.
The University of Florida Institute of Food and Agricultural Sciences recently announced that 52 faculty members have been accorded promotion, tenure and/or permanent status by the University. These actions become effective July 1 for 12-month faculty, August 16 for 9-month faculty. The promotion-and- tenure/permanent-status process is a rigorous review of faculty members' teaching, research, and Extension accomplishments, as well as their service to the University, society and the profession.
Dr. Koeser has been with the University of Florida since 2016. His research is primarily focused on issues relating to urban landscape sustainability, tree risk assessment/storm failure prediction, and factors that influence urban tree growth and longevity.
Wendy Wilber has been the statewide coordinator for the Florida Master Gardener Volunteer program since 2015, and was previously the Alachua County Master Gardener Volunteer coordinator.
---
Lisa Krimsky and Charles Barrett Present on BMAPs in Late April
On Tuesday, April 28 at noon, CLUE faculty Drs. Lisa Krimsky and will present "Introduction to Basin Management Action Plans." It is part of an online in-service training series, "Introduction to Water Resources Management in Florida." To ensure the safety and security of these webinars, the Zoom links have been updated and registration is required. Register for "Introduction to Basin Management Action Plans" here.
---
Laura Warner Wins 2020 AAAE Southern Region's Distinguished Research Award
At the Southern Region's conference of the American Association for Agricultural Education, held February 1-4 in Louisville, Kentucky, CLUE faculty member Dr. Laura Warner was named the 2020 Distinguished Researcher. The award recognizes individual AAAE-Southern Region members for outstanding research conducted by them that contributes in a superior manner to the Agricultural Education profession. Dr. Warner is an associate professor and Extension specialist in Agricultural Education and Communication, specializing in program evaluation, behavior change, and social marketing.