Urban Ecology for Citizens and Planners, a New Book from Gail Hansen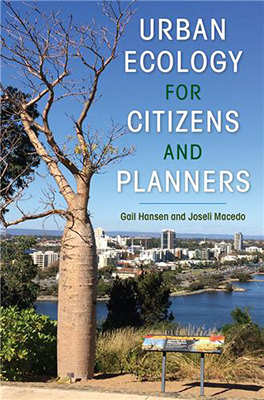 Gail Hansen, CLUE faculty and associate professor in the Department of Environmental Horticulture at the University of Florida, has a new book that's now available for pre-order.
Urban Ecology for Citizens and Planners is ideal for city residents, developers, designers, and officials looking for ways to bring urban environments into harmony with the natural world and make cities more sustainable. It offers a wealth of information and examples that will answer fundamental scientific questions, guide green initiatives, and inform environmental policies and decision-making processes.
The book provides an overview of the synergistic relationships between humans and nature that shape the ecology of urban green spaces. It also emphasizes the social and cultural value of nature in cities for human health and well-being. Chapters describe the basic science of natural components and ecosystems in urban areas and explore the idea of biophilic urbanism, the philosophy of building nature into the framework of cities. To illustrate these topics, chapters include projects, case studies, expert insights, and successful citizen science programs from urban areas around the world.
Authors Gail Hansen and Joseli Macedo argue that citizens have increasingly important roles to play in the environmental future of the cities they live in. A valuable resource for real-world solutions, this volume encourages citizens and planners to actively engage and collaborate in improving their communities and quality of life. Coauthor Joseli Macedo is a professor in the School of Architecture, Planning and Landscape at the University of Calgary.
Urban Ecology for Citizens and Planners is now available from the University Press of Florida.
---
"We are now well into this first urban century and the importance of understanding the ecology of cities is ever more apparent. Hansen and Macedo provide a timely, valuable guide for citizens and planners to apply ecological knowledge in the shaping of our cities. Such wisdom is essential for our health and wellbeing as well of that of other species."—Frederick Steiner, author of Making Plans: How to Engage with Landscape, Design, and the Urban Environment
"Citizens and planners all need an understanding of urban ecology. Our futures all depend on it. This book offers a clear, practical, and deep understanding that will help in our various journeys to creating beautiful, inclusive, sustainable cities."—Peter Newman AO, Curtin University
"This book provides actual solutions for helping cities become more resilient in the face of climate change, sea level rise, and pollution. In addition, it details how city residents can play an important role as citizen scientists."—Ginny Stibolt, coauthor of Climate-Wise Landscaping: Practical Actions for a Sustainable Future