Archives: CLUE News, 2020-19
CLUE Faculty Receive University Term Professorships
Mary Lusk presents to the Florida chapter of the International Society of Arboriculture
Michael Dukes honored at 2019 ASABE Annual International Meeting
Jack Payne: Modest Investment Leads to Big Impact in Pinpointing Magic Turf Mix
Michael Dukes to be honored at FNGLA Convention
Stormwater Ponds May Harbor Invasive Plants, UF/IFAS Research Finds
New Report Shows Effects of Extension Water Conservation Programs
Michael Dukes to be honored at ASABE International Meeting
Laura Warner recognized at AAAE conference
Sandra Wilson and graduate students win awards
MasterCard Foundation Scholar Interns with Mary Lusk
CLUE faculty awarded tenure, promotion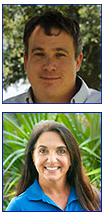 We are pleased to announce that two CLUE faculty were awarded tenure and promotion this summer. Dr. Andrew Koeser, professor of landscape management at the Gulf Coast Research and Education Center in Wimauma has been awarded tenure and promoted to associate professor, and Wendy Wilber, Florida Master Gardener Volunteer statewide program coordinator, has been promoted to Extension agent IV.
The University of Florida Institute of Food and Agricultural Sciences recently announced that 52 faculty members have been accorded promotion, tenure and/or permanent status by the University. These actions become effective July 1 for 12-month faculty, August 16 for 9-month faculty. The promotion-and- tenure/permanent-status process is a rigorous review of faculty members' teaching, research, and Extension accomplishments, as well as their service to the University, society and the profession.
Dr. Koeser has been with the University of Florida since 2016. His research is primarily focused on issues relating to urban landscape sustainability, tree risk assessment/storm failure prediction, and factors that influence urban tree growth and longevity.
Wendy Wilber has been the statewide coordinator for the Florida Master Gardener Volunteer program since 2015, and was previously the Alachua County Master Gardener Volunteer coordinator.
---
Laura Warner Wins 2020 AAAE Southern Region's Distinguished Research Award
At the Southern Region's conference of the American Association for Agricultural Education, held February 1-4 in Louisville, Kentucky, CLUE faculty member Dr. Laura Warner was named the 2020 Distinguished Researcher. The award recognizes individual AAAE-Southern Region members for outstanding research conducted by them that contributes in a superior manner to the Agricultural Education profession. Dr. Warner is an associate professor and Extension specialist in Agricultural Education and Communication, specializing in program evaluation, behavior change, and social marketing.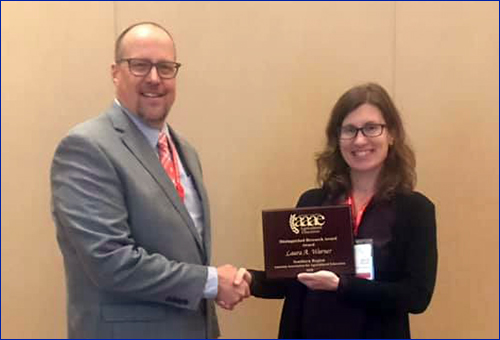 ---
Dr. Mary Lusk's Soil and Water Science Program has Award-Winning Student
Amanda Muni-Morgan, a PhD student in Dr. Mary Lusk's lab, received an honorable mention in this year's National Science Foundation Graduate Research Fellowship competition. This is one of the most prestigious graduate fellowship competitions in the United States. Congratulations Amanda!
---
National Science Foundation Updates
The National Science Foundation (NSF) recently made changes to a number of critical forms required for all proposals, with the "Biosketch" and "Current and Pending" forms being most impacted. NSF will require use of the new formats starting October 5th, 2020 but encourage their use prior to the effective date. UF's Office of Research has put together helpful resources to assist in navigating these changes, including a PAPPG Summary of Changes (PDF).
NSF also encourages applicants to create and manage supplemental documents via the SciENcv platform, which ensures document outputs are properly formatted (thus preventing kickbacks). This PDF document lists frequently asked questions about using SciENcv.
---
CLCE Faculty Receive University Term Professorships
Congratulations to Adam Dale, Kevin Kenworthy, Chris Marble, and Laura Warner for receiving University Term Professorships. Dr. Chris Marble is an assistant professor in ornamental and landscape weed management in the environmental horticulture department at the Mid-Florida Research and Education Center. Dr. Laura Warner is an associate professor and Extension specialist of Extension education in the department of agricultural education and communication. Affiliate faculty member Dr. Adam Dale is an assistant professor in turfgrass and ornamental entomology in the department of entomology and nematology. Affiliate faculty member Dr. Kevin Kenworthy is a professor in plant breeding and molecular genetics with the agronomy department. The purpose of these awards is to recognize and reward faculty achievements in their areas of assignment and promote continued excellence. Candidates must be nominated by their unit leader, have annual evaluations of Commendable or Exemplary for last five evaluations, high quality of student mentorship, record of professional service, and excellence in research, teaching, or extension. Each award runs for three years and provides an annual salary supplement. Faculty in the fifth year (or more) of full-time service in a tenure-track or permanent-status title are eligible. Holders of the award may add "University Term Professor" to their academic titles for the duration of the award.
---
Mary Lusk presents to the Florida chapter of the International Society of Arboriculture
The Gulf Coast Research and Education Center recently hosted the Florida chapter of ISA for a full -day seminar, titled "The Dirt on Soils for Urban Trees", on August 21. The event featured two urban soils experts: CLCE faculty Mary Lusk and Bryant Scharenbroch from the University of Wisconsin-Stevens Point (assisted by the Urban Tree and Landscape Management Lab). Over 80 arborists, landscape architects, landscapers, and urban foresters spent the day at the center where they experienced hands-on soil and site assessment techniques as a first step towards making meaningful prescribed changes to the soils surrounding landscape trees.
---
Michael Dukes honored at 2019 ASABE Annual International Meeting
The American Society of Agricultural and Biological Engineers (ASABE) recently presented awards for outstanding technical and professional achievements at the 2019 ASABE Annual International Meeting, held recently in Boston. CLCE Director Michael Dukes was honored twice, as the 2019 recipient of the Heermann Sprinkler Irrigation award for his impactful and relevant research and extension in water conservation of irrigated systems, and the Evelyn E. Rosentreter Standards award for his work in the development of irrigation. 
A 22-year member of ASABE, Dukes has been an associate editor for Transactions of the ASABE since 2010 as well as a guest division editor for the Irrigation special collection. Dukes has served as both a proceedings editor and planning committee member for the ASABE Irrigation Association Symposium in 2010 and 2015. He has served as a leader on the Larry W. Turner Young Extension Professional award committee and on several Natural Resources and Environmental Systems Technical Community committees. Dukes has been active within the Florida Section, as both an involved member and leader, for the duration of his ASABE membership.
---
Jack Payne: Modest Investment Leads to Big Impact in Pinpointing Magic Turf Mix
UF/IFAS senior vice president Jack Payne recently wrote a guest column for the Florida Nurseries, Growers, and Landscape Association (FNGLA) website, describing a project led by CLCE affiliate faculty member Adam Dale. Read his full piece on the FNGLA website.
---
Michael Dukes to be honored at FNGLA Convention
CLCE Director Dr. Michael Dukes was recently named the 2019 Friend of the Industry by the Florida Nurseries, Growers and Landscape Association (FNGLA). This award recognizes an individual from outside the association who has contributed to the advancement or improvement of the nursery and landscape industry. "Dukes is one of the foremost national authorities on irrigation," said a representative for the association. Dr. Dukes will be honored at the 2019 FNGLA Annual Convention, which will be held June 21-22 in Tampa.
---
Stormwater Ponds May Harbor Invasive Plants, UF/IFAS Research Finds
Stormwater ponds are prevalent throughout Florida's urban and residential landscapes, but University of Florida researchers are looking into whether these engineered ecosystems support the spread of invasive plant species. An ongoing UF Institute of Food and Agricultural Sciences Interdisciplinary Research on Invasive Species (IRIS) grant-funded project set out to examine the ecosystems within and surrounding stormwater ponds. Researchers say the data collected have indicated the presence of invasive plant species in 96% of the 30 ponds studied, and these findings could inform future construction and management of stormwater ponds. The project, led by CLCE faculty Basil Iannone, an assistant professor in the UF/IFAS School of Forest Resources and Conservation, investigates how many invasive plants are present within stormwater ponds, and how pond management and nutrients present in stormwater ponds' water and soil act as potential drivers of plant invasions. James Sinclair, a postdoctoral researcher in the School of Forest Resources and Conservation, led research efforts, and other principal investigators on the project are Carrie Adams, an associate professor in the UF/IFAS environmental horticulture department; Eban Bean, an assistant professor in the UF/IFAS agricultural and biological engineering department; and AJ Reisinger, a UF/IFAS assistant professor in the soil and water sciences department. Bean and Reisinger are also CLCE faculty. Read the full article.
---
New Report Shows Effects of Extension Water Conservation Programs
Because of UF/IFAS water conservation programs, Florida residents and green industry professionals are adopting sound landscape management practices that minimize water waste. During 2018, UF/IFAS reported a combined estimated water savings of 386,541,761 gallons of water annually, based on Extension clients' reported behavior change. To put this in perspective, this water savings is sufficient to supply water for a whole year to 4,393 households, or 104 subdivisions. This later savings is valued annually at a total of $1,279,453.23 in water bill savings for participating households and $1,005,008.58 in water delivery costs for utilities statewide. This water savings also reduced wastewater fees for some households, and potentially contributed to water resource protection in communities across Florida. See the newly published infographic on 2018 statewide urban water conservation efforts and the corresponding impact statement at UF/IFAS Gardening Solutions.
---
Michael Dukes to be honored at ASABE International Meeting
Center Director Michael Dukes will be presented with the 2019 Evelyn E. Rosentreter Standards award and the Heermann Sprinkler Irrigation award from the American Society of Agricultural and Biological Engineers (ASABE) at the 2019 ASABE Annual International Meeting in July. The Rosentreter award recognizes exceptional contributions toward the generation, maintenance, and administration of ASABE standards; the Heermann award honors professionals that have made significant contributions to the improvement of efficient and effective sprinkler irrigation. Read the full article.
---
Laura Warner recognized at AAAE conference
Dr. Laura Warner, CLCE faculty member and assistant professor in agricultural education and communication, was recognized at the 2019 Southern Region American Association for Agricultural Education conference held this February in Birmingham, Alabama. Her paper, "Why do growers adopt water conservation practices? Viewing Extension opportunities through a new lens' was named Distinguished Research Paper. The paper's other authors are: Alexa Lamm, Sarah White, Paul Fisher, and Peyton Beattie. The study presented in this paper is part of the Clean WateR3 - Reduce, Remediate, Recycle project funded by the National Institute of Food and Agriculture, U.S. Department of Agriculture, under award number 2014-51181- 22372. Visit the project at: www.Cleanwater3.org.
---
Sandra Wilson and graduate students win awards
Dr. Sandra Wilson, professor in environmental horticulture and CLCE affiliate faculty member, was recognized as a Region Fellow for the International Plant Propagators Society Southern. The IPPS Fellow Award honors and recognizes outstanding individuals for their contributions to the nursery industry and to plant propagation in the Southern Region. (Photo: Dr. Wilson, on the right, holds her award plaque)
Dr. Wilson's graduate student Carlee Steppe was the recipient of the Sidney Meadows Horticulture Scholarship from the Southern Nursery Association.
Debalina Saha, student of CLCE faculty member Chris Marble, came in 3rd place at the International Plant Propagators Society Southern Region Student competition.
---
MasterCard Foundation Scholar Interns with Mary Lusk
This semester Dr. Mary Lusk's lab at the Gulf Coast Research and Education Center has an undergraduate intern, Juma Bukomba (photo, right). Jumao is a MasterCard Foundation Scholar from Uganda. He won 2nd place in the undergrad category of the GCREC Ag Expo poster contest in November. Juma presented his research on nitrogen availability in urban soils with diverse vegetation covers.
The Mastercard Foundation Scholars Program provides financial, social, and academic support to Scholars, who are mainly from African nations. With a vision that education is a catalyst for social and economic change, the program focuses on developing leaders who are transformative, encouraging them to be active contributors in their communities. Learn more at mastercardfdn.org.